"Creating Print Magic Since 1965"
We have been a specialist in printing onto our amazingly versatile substrate since 1965. Cardboard is incredibly sustainable and compared to making promotional items from plastic or metal can be very cost effective.
Promotional print can have a huge impact for your brand and our skilled design team have created some unbelievable pieces from cardboard.
Large format printing

We can take on any project that involves high quality digital or screen printing onto cardboard structures. This can be used for unlimited applications be it billboards, promotional stands, posters, theatre sets and beyond.
Wearable Cardboard Items
Our 'character heads' are fully wearable and add fun and originality to your event. These are some examples we made for JAGEX, and you can also see them in action here.
Large Panels
We wanted something with the ultimate flexibility in promotion and event dressing, so we developed 'stacking panels' – modular panels which can be used to build a multitude of objects such as castles, room dividers and walls.  We supply these to all types of events including conferences, expos and open days.
Display Boxes and Presentation Cases
Give your pitch more punch and add value to a new product – Garthwest presentation cases are an ideal way to showcase your goods. Cardboard is so incredibly flexible to work with, we can create something amazing to suit any budget and brief.
Exhibitions
Using different types of cardboard products and combining our considerable computer aided design skill, we're able to help you to visualise and create your exhibition stand. Our experience of this incorporates a vibrant portfolio, from creating entire exhibitions through to our involvement with Platform Expo events in Hull.
One-off Projects
Our imaginative team has designed many unique projects to grab the attention of potential customers!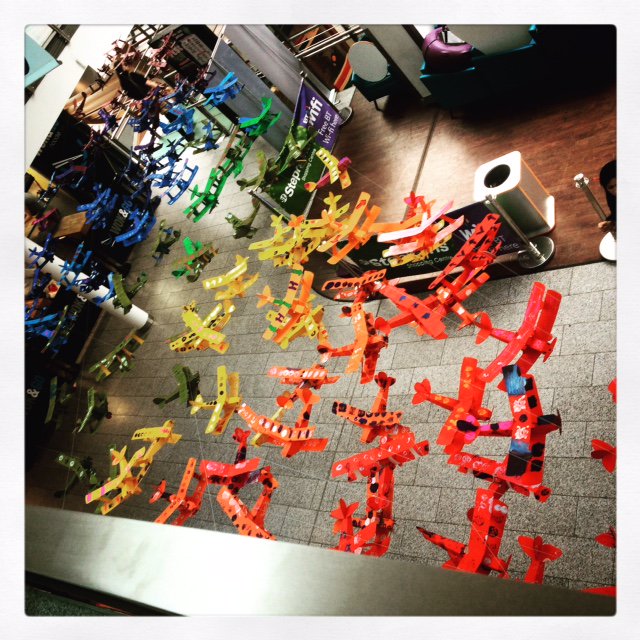 Some Examples Include:
Giant game blocks for a university campus event
Branded cardboard polling stations for university student elections
1000's of cardboard biplanes for the Amy Johnson Festival 2016
We love working on creative projects and our design team can hit the ground running at any stage, from the very early "back of the napkin" birth of a project, right up to converting complex blueprints into a finished product.
To discuss your business needs, contact our strategists today.