Ever since been founded in 1964, here at Garthwest we are pioneering in innovative corrugated packaging design and sustainable performance packaging solutions alongside offering a wide range of creative promotional design and print materials for various products and industries. We are working within sectors including food and beverage, health and well-being, pharmaceutical, clothing and furniture, always aiming to add a personal touch, extra care and value for all our customers.
For over 50 years, the corrugated cardboard packaging has been our 'bread and butter'. From designing and manufacturing simple transit corrugated cardboard packaging that protects your goods in transport, we can create bespoke product packaging as a powerful tool that impacts your customers decisions and efficiently sells your products.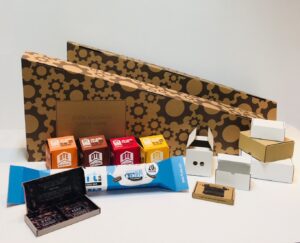 A five-decades long experience within the packaging industry alongside an expert design team allow us to design and develop the most effective corrugated cardboard packaging that not just protects your product, but, most importantly, puts it in the spotlight, giving it a distinctive edge over your competitor's.
Here at Garthwest we offer a vast range of services, including; bespoke corrugated cardboard packaging concept creation, design and manufacture, prototyping and mock up services, artwork creation and packaging asset management as well as creative design and print of promotional materials.
Our POS and promotional print division helped many UK and international brands in promoting their product where it matters most, at the point of purchase. We are creating solutions such as standard point of purchase displays (Free Standing Display Units, Floor Displays, Standees, Endcap Displays, Pallet Displays, Counter Displays, Dump Bins, Leaflet Holders, and many more), virtually usable for any product in any industry. Our team's capabilities extend even further, as our designers can offer you the creation of unique and innovative structures that will allow you to communicate your message and promote your product in the most powerful way at the right time and place of the buying cycle.
Our product range offers even more advantage due to being made out from the most sustainable material-corrugated cardboard. The corrugated cardboard is 100% recyclable by nature and helps your business reduce its carbon footprint and unrecyclable waste after product's consumption whilst presenting your products to your customer as a sustainable and eco-friendly purchase and enhancing your brand sustainability credentials.
Based on our experience with many UK retailers and international brands, topped up by our understanding of the consumers journey and experience we will help you decide on which style packaging or creative promotional print fits your needs and product best and will create a mock-up or prototype, so you can experience the design first-hand and be fully satisfied before your product launch.
Our dedicated team will guide and support you during the whole journey and we can confidently say that we have the required expertise to help you and your product succeed.