Branded E-Commerce Postal Boxes
Investing in impactful Branded E-Commerce Postal Boxes is an essential component of any successful marketing strategy and by creating eye-catching displays that effectively showcase your products and brand, we can help you improve sales, increase brand awareness, and ultimately drive business growth.
Presentation & Promo Boxes
Our branded presentation boxes are the definition of luxury packaging. Our range includes a fantastic choice of gift boxes, sample packs, promotional kits and subscription boxes! 
Our custom printed postal boxes make a memorable unboxing experience for your clients.  The design process is completely customisable, giving you the chance to fully portray your brand's image and ethos. We offer an unlimited print area on both the interior and exterior of each box, alongside all manner of sizing. This provides you with complete creative control, helping to make your vision come to life.
Alongside our custom design process, we also offer unique printing services to meet the requirements of your design. For low volume orders, we offer 4-colour CMYK digital printing; for higher volume orders our Flexo service is available on either white or brown paper. 
Additionally, for high-quality, photographic print on our presentation boxes, we use Litho laminated packaging. Litho offers the most premium finish to your box while also providing a high return of investment. This not only adds a competitive advantage to your branding; it is also extremely cost effective.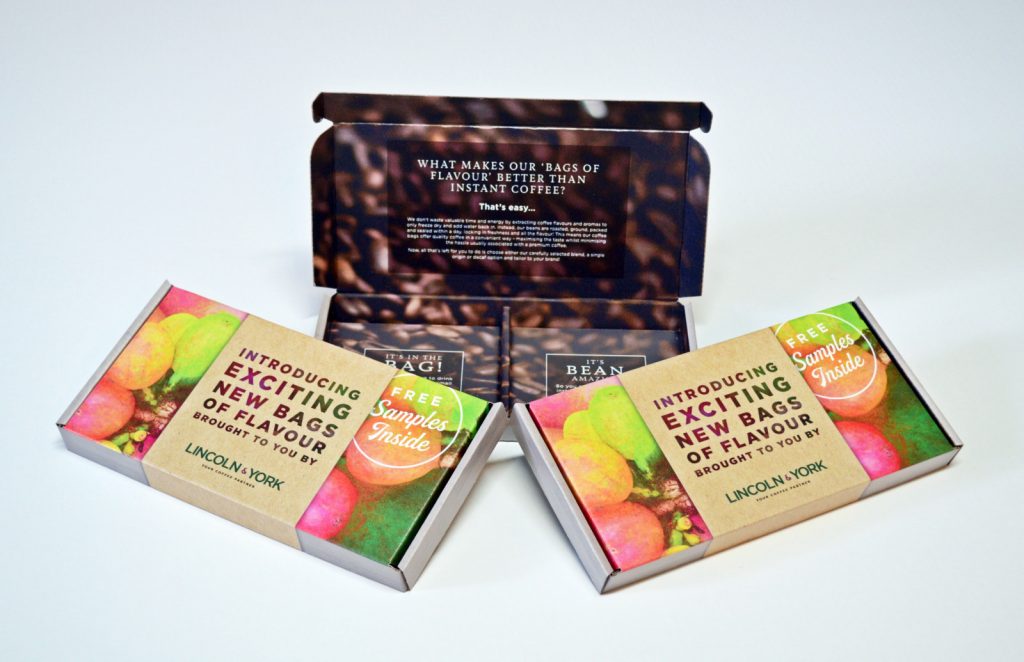 We also offer a variety of insert and fitment designs for inside our branded postal boxes. This helps to maximise the product holding while also securing your products within the packaging. You have the freedom to choose whether you would like the boxes and their inserts to be delivered flat or assembled. 
Our presentation boxes are made from biodegradable and fully recyclable materials, helping to reduce your carbon footprint. Here at Garthwest, we are always looking for new ways to drive sustainability and do our bit for the planet. Our in-house team are here to help you make more eco-friendly choices.  
What a superb way to engage guests! The print quality was excellent and it was great to see guests having fun interacting with the standee!
Luzette Marie
Senior Events and Marketing Manager, EMEA – The Unruly Group
The Fatherson Bakery branded FSDU's have gone down really well and allowed us to open up to new retailers. The branding and build quality make them robust and quick and easy to assemble. Thank you to the Garthwest team. As we need new POS, we will surely use you again.
Laurence Smith
Owner & MD of Fatherson Bakery Ltd.
Garthwest have been extremely helpful and flexible in designing & producing a product that was right for us and to a very tight deadline, brilliant service!
Costa Coffee
Transformation Office Manager
I've worked with Lindsay and the team at Garthwest for many years and in this time they delivered a phenomenal service. They are a hugely reliable and trusted POS partner and together we achieved some amazing results. They managed impossible deadlines, brought life to complex, challenging projects, and worked tirelessly to reduce costs and wastage, without lowering standards or quality. If you need a first-class supplier of POS and in-store marketing materials, I would highly recommend that you contact Garthwest.
Steve Coggins
Sales Director UCA
Garthwest brought our new bespoke coffee bag offering to life by creating a simple yet effective direct mail solution. From the initial brief to the final product, Garthwest provided brilliant customer service and were a pleasure to work with.
UK leading coffee roasting and packing specialist (Marketing team)
Speak to a Packaging Specialist