Investing in impactful Food & Beverage POS displays is an essential component of any successful marketing strategy and by creating eye-catching displays that effectively showcase your products and brand, we can help you improve sales, increase brand awareness, and ultimately drive business growth.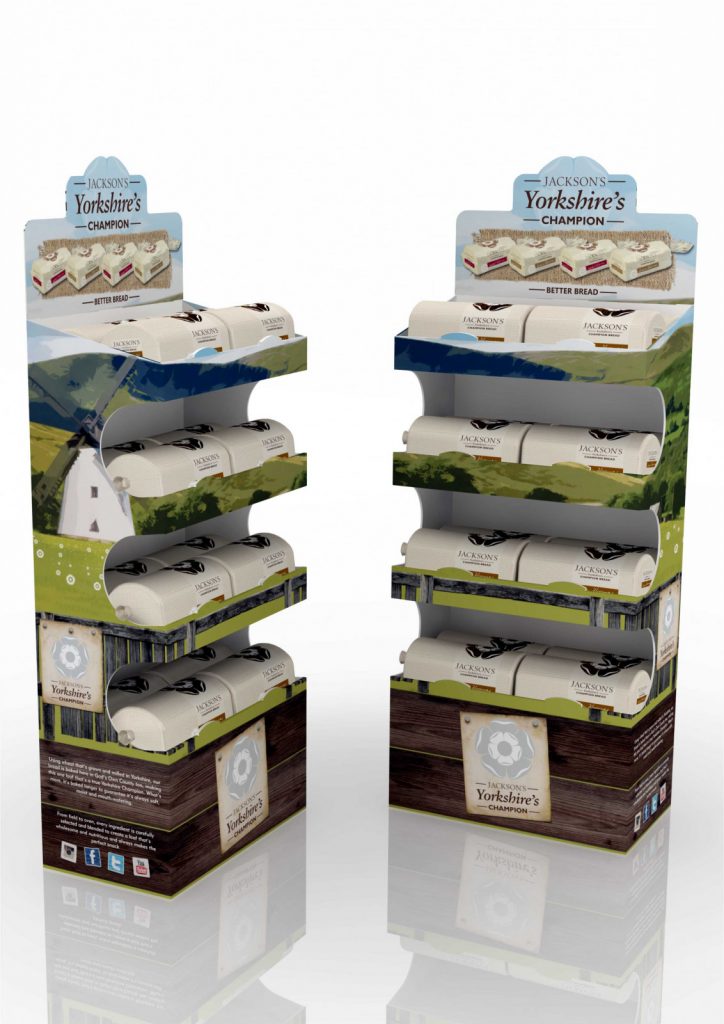 POS (Point of Sale) are a vital marketing tool in today's highly clustered retail environment, particularly for the food and beverage sector. Here at Garthwest, our food and beverage POS offer eye-catching displays of all shapes and sizes, navigating the modern shopper to purchase products both new and old. 
Whether you are looking to launch a new beverage or are aiming to boost sales of your nibbles, we can offer you our expertise to help boost your campaign and achieve the best results. 
Bespoke POS units: Our POS units are bespoke and customised to your requirements, allowing your in-store display to be one of a kind and on-brand. Together with our in-house design team, we will work with you every step of the way, from generating an initial concept and creating prototypes, to manufacturing and transiting to stores.
Food and Beverage POS units: Food and beverage POS units need to be suitable for displaying your products for a long period of time; our units are built with strength and durability in mind. Design also considers flexibility and ease of use, with retailers having the ability to periodically add stock without needing to change shelf formats. 
Lightweight & Easy to Assemble and Disassemble: The assembly and disassembly of our POS flatpack units is simple and easy, the lightweight materials allowing you to manoeuvre and change position effortlessly.  
Flat-packed, 100% Recyclable & FSC Accredited: Our food and beverage POS units are 100% recyclable and FSC accredited, allowing for low distribution and storage costs. This helps reduce our carbon footprint and environmental impact.
What a superb way to engage guests! The print quality was excellent and it was great to see guests having fun interacting with the standee!
Luzette Marie
Senior Events and Marketing Manager, EMEA – The Unruly Group
The Fatherson Bakery branded FSDU's have gone down really well and allowed us to open up to new retailers. The branding and build quality make them robust and quick and easy to assemble. Thank you to the Garthwest team. As we need new POS, we will surely use you again.
Laurence Smith
Owner & MD of Fatherson Bakery Ltd.
Garthwest have been extremely helpful and flexible in designing & producing a product that was right for us and to a very tight deadline, brilliant service!
Costa Coffee
Transformation Office Manager
I've worked with Lindsay and the team at Garthwest for many years and in this time they delivered a phenomenal service. They are a hugely reliable and trusted POS partner and together we achieved some amazing results. They managed impossible deadlines, brought life to complex, challenging projects, and worked tirelessly to reduce costs and wastage, without lowering standards or quality. If you need a first-class supplier of POS and in-store marketing materials, I would highly recommend that you contact Garthwest.
Steve Coggins
Sales Director UCA
Garthwest brought our new bespoke coffee bag offering to life by creating a simple yet effective direct mail solution. From the initial brief to the final product, Garthwest provided brilliant customer service and were a pleasure to work with.
UK leading coffee roasting and packing specialist (Marketing team)
Speak to a Packaging Specialist