Investing in impactful Home Entertainment POS displays is an essential component of any successful marketing strategy and by creating eye-catching displays that effectively showcase your products and brand, we can help you improve sales, increase brand awareness, and ultimately drive business growth.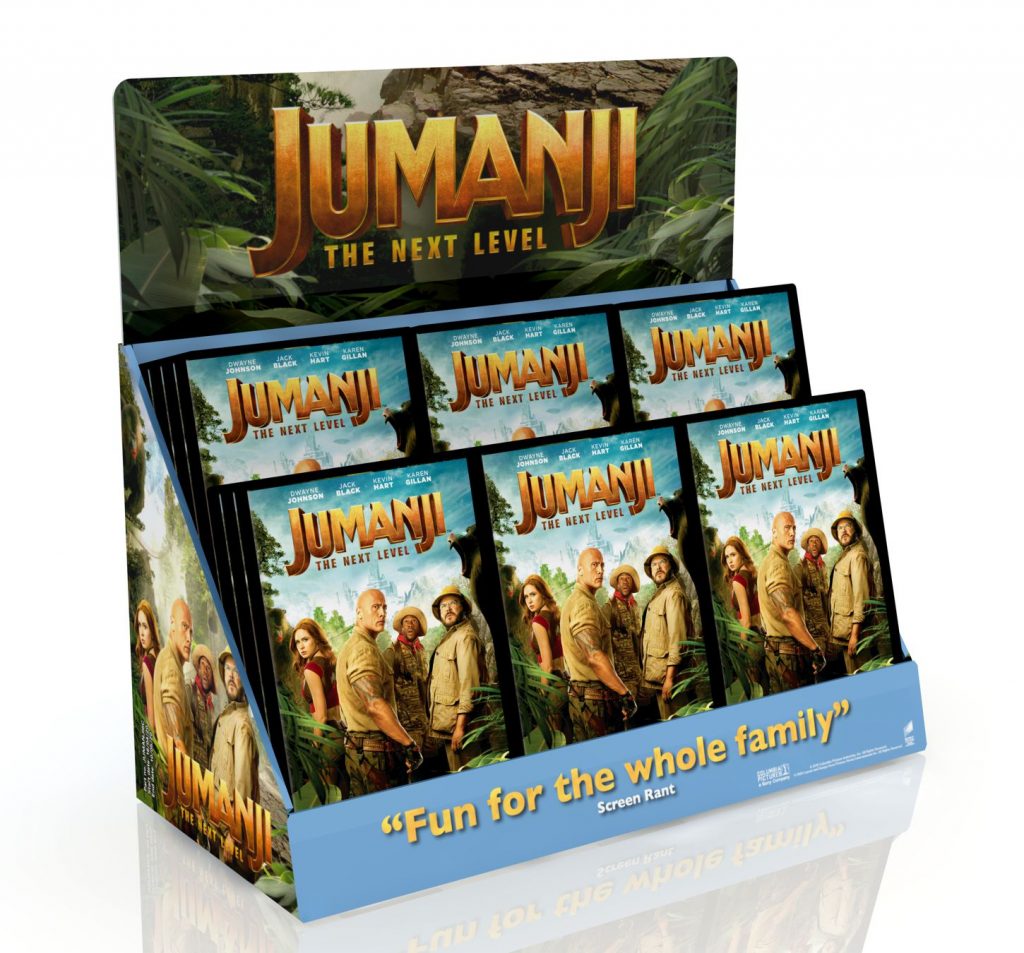 For decades, Garthwest has been the POS designer, manufacturer, distributor and co-packer for a number of large film distributors, from Universal Studios (UCA) to Sony Pictures Home Entertainment.
Our customers consistently have various POS item campaigns going out to multiple stores in Mainland UK, Highlands and Islands. Quantities vary from a few hundred to a few thousand POS items at a time, each with bespoke artwork arrangements for the varying titles and release dates.
We continuously aim to create a viable workflow for our clients in order to streamline the artwork and design processes efficiently between each party. This improves lead times by removing funnels that could cause potential delays within the process.
FSDUs and CDUs with pockets for retailing DVDs, CDs, and video games.
Units are either for counter use or free-standing floor units. There is a range of materials, sizes and print techniques to meet your marketing needs.
Corrugated fillers for each pocket to reduce product movement during transit.
Ideal for long-term use or short promotions.
POS units are fully recyclable and biodegradable.

There is nothing that catches the eye in a retail store better than a well-designed point of sale display; and in today's times, with more video games being released, Blu Ray DVD's and CD albums available, it's always a great idea to market and stock various brands at the same time.
These visually appealing and cost-effective solutions to in-store marketing are the perfect way to stand out in a crowded retail environment and promote the next big title. Our team of design experts have years of experience and expertise into bringing your marketing campaigns to life.
What a superb way to engage guests! The print quality was excellent and it was great to see guests having fun interacting with the standee!
Luzette Marie
Senior Events and Marketing Manager, EMEA – The Unruly Group
The Fatherson Bakery branded FSDU's have gone down really well and allowed us to open up to new retailers. The branding and build quality make them robust and quick and easy to assemble. Thank you to the Garthwest team. As we need new POS, we will surely use you again.
Laurence Smith
Owner & MD of Fatherson Bakery Ltd.
Garthwest have been extremely helpful and flexible in designing & producing a product that was right for us and to a very tight deadline, brilliant service!
Costa Coffee
Transformation Office Manager
I've worked with Lindsay and the team at Garthwest for many years and in this time they delivered a phenomenal service. They are a hugely reliable and trusted POS partner and together we achieved some amazing results. They managed impossible deadlines, brought life to complex, challenging projects, and worked tirelessly to reduce costs and wastage, without lowering standards or quality. If you need a first-class supplier of POS and in-store marketing materials, I would highly recommend that you contact Garthwest.
Steve Coggins
Sales Director UCA
Garthwest brought our new bespoke coffee bag offering to life by creating a simple yet effective direct mail solution. From the initial brief to the final product, Garthwest provided brilliant customer service and were a pleasure to work with.
UK leading coffee roasting and packing specialist (Marketing team)
Speak to a Packaging Specialist