Garthwest's Produce Trays: Eco-friendly Packaging for Your Harvest
---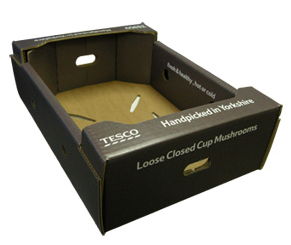 Produce trays provide you with a cost effective and environmentally friendly option to transport and present your fresh produce to your customer.
Well-designed, corrugated cardboard produce trays are vital as the customer will usually pick straight from the tray.  We'll assist you in creating a product that will not just protect, but also market your product, advising you on any aspect of the use of trays in your supply chain.
---
---
TECO Machines
As well as manufacturing produce trays, here at Garthwest we are a distributor for TECO machinery – an extremely reliable machine type which glues and erects produce trays and can be installed and maintained by us on your site.
The benefits of on-site TECO machines include:
Saving space because you only store blanks – not made up trays
Easy to use and comes with operator training
Machine is serviced and maintained by Garthwest
Access to a large team of engineers to resolve problems quickly
Named contact at Garthwest
Can be installed at any location in the UK
Lets discuss what you need packing and what is your deadline today!