Remember the childhood excitement of opening presents at Christmas? Well, the unboxing experience is the adult version of that nostalgic thrill.
With e-commerce sales continuing to soar, branded packaging is one of the many ways to diversify your product in the saturated online space.
Companies currently using standard stock shipping boxes are missing out on the numerous marketing benefits of branded postal and presentation boxes, including the reinforcement of a strong brand identity and an elevated customer experience.
What Are Branded Postal Boxes?
With endless options for printed packaging, branded postal boxes give businesses the opportunity to portray and spread their brand's unique image, messaging and ethos.
Packaging is any physical container protecting a product in transit from company to consumer. From gift boxes to sample packs, promotional kits and subscription boxes, branded presentation boxes are completely customisable from structure to print design.
Here at Garthwest, we offer an unlimited print area on both the interior and exterior of each box, alongside offering a vast range of sizing options. This provides clients with complete creative control, helping their brand mission come to life.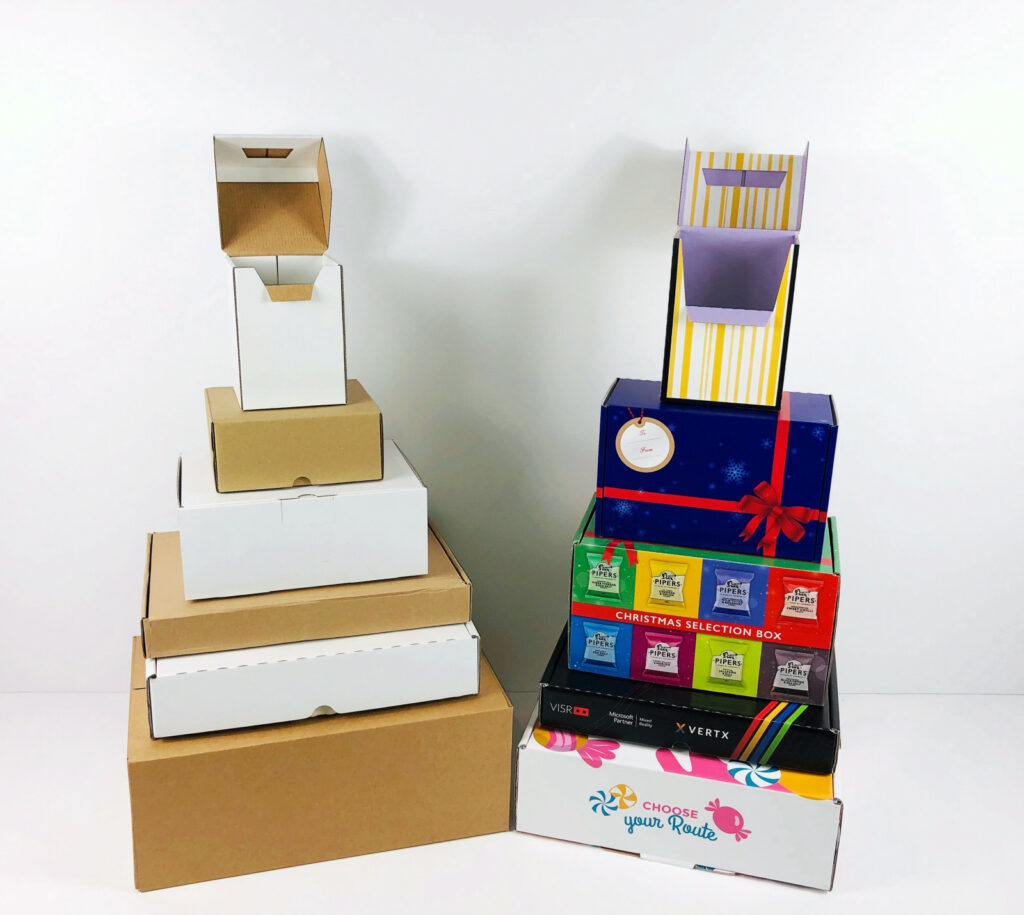 Designing and Creating Your Branded Postal Box
In many instances, packaging is the consumer's first tangible experience with an online brand. Considering this, it's important for companies to design packaging that is unique, recognisable and true to their brand, creating a memorable experience for each and every customer.
From the custom design process to photographic prints and sustainable materials, packaging development is an important extension of your brand experience. With tons of options for printing and customising everything from gift wrap to printed fonts, packing slips, and branded inserts, packaging has the power to enhance brand perceptions.
With logos, messages and a consistent colour scheme, make packaging your own with branded presentation boxes. Why not develop packaging mock-ups with the expert team at Garthwest to discover your company's packaging potential?
How Does Brand Packaging Impact Customer Experience and Boost Marketing?
In a survey carried out amongst online shoppers, 40% stated that branded packaging makes them more likely to recommend a product – proving that packaging really does have the power to boost your brand.
Differentiate Your Brand
With packaging that is unique to your brand, your company will begin to thrive and stand out, wowing customers in the process. As the online market continues to grow, win over your customers with a strong visual identity.
Tell The Story of Your Brand
Think consistency. Packaging is an extension of your brand from your online presence, right through to the physical product. Consider the values, ethos and personality behind your brand, incorporating those features into the packaging design.
Packaging Translated Online
With the rise of user-generated content and the ever-evolving trend of influencer marketing, customers are more likely to share their delivery experience online when it's an interesting and enjoyable one.
Why not encourage customers to share their unique unboxing experience by including a call-to-action inside the parcel?
Enhance Your Packaging
As an e-commerce brand navigating our current digital world, it's important to add value to every customer interaction. Branded packaging is an incredible tool for this, applying a sense of value and quality to every package.
Are you looking to influence brand perception with your packaging? Contact Garthwest today.