In today's highly cluttered retail environment, point of sale is a vital marketing tool and sales vehicle for a vast range of products. Eye-catching displays of all shapes and sizes navigate the modern shopper to decide to try a new product or recalling an old brand. Along with Free Standing Display Units and Counter Display Units, Clip Strips are well-known as a smart POS solution for small and lightweight goods which need a punchy presentation in the retail space.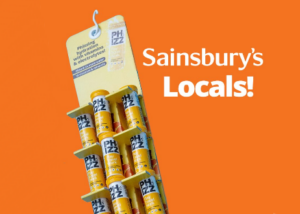 In many ways, clip strips are a unique piece of POS, not just because they are designed bespoke to a product as all POS should, but because they require very little, if no space, in order to be displayed. Hung between cluttered shelves, placed right in front of the shoppers' eyes, clip strips are the perfect tool for creating impulse buys and boost your sales on minimal cost.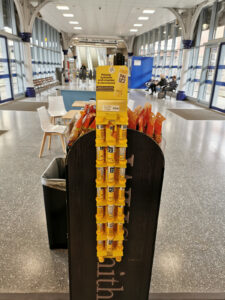 Being an expert in the POS design and manufacturing field, we have had a UK leading vitamin and health supplement brand get in touch with a requirement for a bespoke clip strip for their vitamin tubes retail launch. After an extensive discussion with the client which involved talking through challenges such as the retailers' requirements, Phizz's own requirements of the products displayed per unit, specifications, brand and product vision, our creative design department was briefed and began designing the unit.
Our designers had the challenge to create a single unit which had to accommodate two tube sizes, both with different lengths and weights that had to be able to be hung steadily between retail shelves, ensuring retail handling and fulfilment of the unit is straightforward, whilst providing effortless access to the consumer too.
Carefully looking into all details and considering each requirement, our team of designers came up with two solutions – a parasite unit and a clip strip unit, where prototypes were created and sent to the client, with all important points towards the overall requirements and both designs explained. Considering the positives and potential drawbacks of each design, our client went with the less bulky and more flexible, but also cost-efficient option choosing the long clip strip which was able to hold a sufficient amount of both tube sizes, just with using small inserts for the shorter tubes.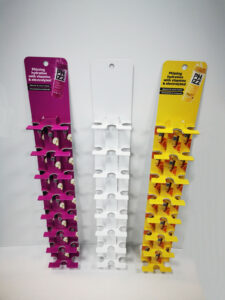 Once the unit was structurally approved, our designers helped in recreating and laying the artwork desired by our client, preparing it for print. Making the most of our end-to-end service, the client shipped all the required products and our fulfilment department assembled, prefilled, and packed the clip strips ready to go to the retailer. Not long after, we began receiving the amazing feedback and images of the clip strip in various stores making the intended presence and impact.
Happy customer – happy us!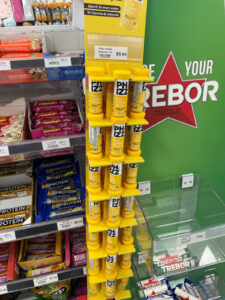 If you have an upcoming product launch or looking to boost your product visibility in store, don't wait, get in touch and we can design your point of sale too.