For over 60 years, Garthwest has helped national and global businesses achieve business goals with bespoke cardboard packaging and POS. We handle each project in-house at our home location in Hull, East Yorkshire – the place where Garthwest was born and bred. 
As onshore manufacturers, we are passionate about partnering with both UK businesses and education providers. We particularly take pride in working closely with local organisations who support the wider Hull community. A recent project we took part in was with Wyke Sixth Form College, an academic institution that moulds young adolescents into tomorrow's leaders. 
The Story of Wyke Sixth Form 
Wyke Sixth Form College is an education provider based in Hull, providing courses that extend from A-Levels and T-Levels to Diplomas. Over the years, Garthwest has worked with Wyke Sixth Form College on various projects, producing bespoke solutions to meet their needs. 
During COVID-19, we created branded desktop screens to maintain social distancing. These displays were easy to assemble and a perfect addition for safe working. Because of this success, Wyke Sixth Form College came back for further support on their EPQ event 2023.
The Challenge
Earlier this year, A Level students had their Extended Project Qualification (EPQ) event. An EPQ is a level 3 course taken alongside A Levels, allowing students to achieve additional UCAS points for their university applications. 
Each student had to present their report or essay to the wider school during this event. As such, Wyke Sixth Form College required a bespoke display that showcases the student's findings in a hall restricted with space. 
The school wanted to recognise the student's efforts in a professional manner and was looking for a solution to help them with this.
The Solution 
Garthwest team spoke with Wyke Sixth Form College to understand their goals and limitations. As we had a previous relationship, our experienced designers knew how to approach the brief with the client's needs in mind.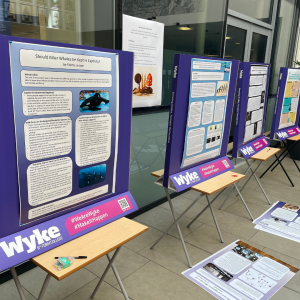 We designed and manufactured 200 bespoke, free-standing presentation boards. These standees are a versatile form of Point of Sales (POS) displays crafted uniquely for the school.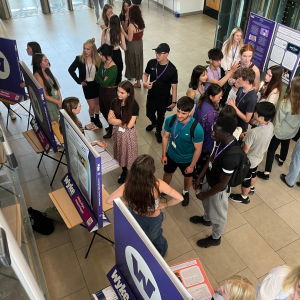 We created every standee using recycled cardboard for the board and free-standing base. We incorporated Wyke's branding and printed interactive features, such as QR codes and hashtags, to encourage further engagement. 
The Results 
Wyke Sixth Form College's EPQ event went very successfully. Every student exhibited their project results in poster format, which was attached easily to our custom standee boards.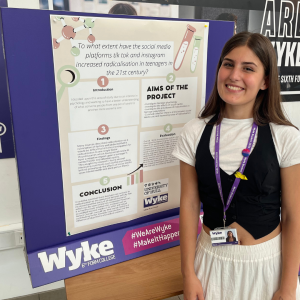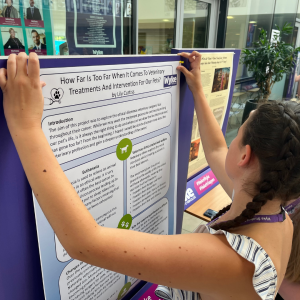 The presentation boards were delivered on time and within budget, helping to continue our ongoing relationship with the local college. 
If you want to learn more about our bespoke POS displays, contact our team and we'll be happy to help.