One of the most renowned health and sports nutrition companies in the UK served us with quite a challenge towards the end of last year.
Their brilliant marketing team had been searching for a cutting-edge FSDU (Free Standing Display Unit) to introduce their brand-new marketing campaign and roll out a new line of products. The FSDU would need to stand out in a competitive nutrition and supplements market, placing their brand in the spotlight on any gym floor in the country.
The primary quest of this design challenge was to mirror the campaign wording, "Unlock Your Ultimate", to the structure and shape of the unit. It is a known fact that corrugated board:
is one of the most adaptable and customisable of all materials.
arrives in all sizes, with any requested coatings and treatments.
can easily fold into different shapes to make it a perfect solution for any design project.
can be printed with a high level of variability and reworking.
After working very closely with their marketing team, exchanging a great deal of innovative drawings, concept visuals, 3D renders and prototypes sent for trialling and testing, our design team came up with the concept of a locked cage, which instantly captured their attention and stole the show. The cage was made of double walled, EB fluted corrugated board, with a plinth for it to stand on, and 18 carton tubes acting as 'metal' bars. The FSDU is easily packed and shipped inside its transit outer case, arriving to the gyms and health stores with full assembly and product configuration sheets.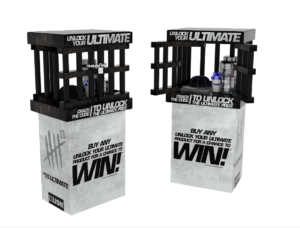 The products locked inside with a padlock were a range of protein powders, amino energy drinks, a T-shirt and a cap, along with wrist straps and shaker bottles. The customer would purchase one of their products from the counter, receive a scratch card and hope to crack the code to enter the cage and win all the fantastic items inside. A dream come true for the aspiring bodybuilder!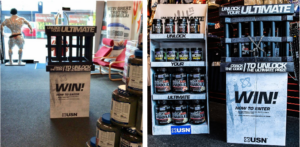 Having conceptualised and successfully produced a unique FSDU of this nature, the customer was delighted with the outcome and its impact in the market.
We always advise our customers to continuously think outside the box. If not, our award-winning design team can do it for you! Leave an enquiry with us today and we'll inspire you too.