Besides your website, your packaging is one of the first times a customer interacts with your brand. Making a lasting impression is essential to improve customer satisfaction and encourage them to repeat purchases.
When a parcel arrives at your customers' doorstep, you can reinforce your brand identity with a carefully crafted branded presentation box. For decades, cardboard packaging boxes have been an optimum choice for practical e-commerce packaging. But if you truly want to catch your customers' attention, branded postal boxes are the solution.
In this blog, we'll explore five creative ideas to help your branded presentation boxes stand out and leave a lasting impression.
1. Customised Inserts and Compartments
Your branded presentation box needs to have carefully designed inserts and compartments to ensure your products are presented with style and safety. Custom inserts will hold your products in place and ensure your products are presented in a sophisticated manner. If your product comes with additional accessories, creating several compartments will neatly tidy away what could fall out when a customer opens the parcel.
At Garthwest, we create bespoke branded promotional boxes, subscription boxes and gift boxes for clients in the FMCG industry. We follow an expert innovation process which allows our designers to create a variety of inserts and compartments within the packaging. Whether you are looking to fit a bottle of alcohol, confectionary goods or beauty products, we can ensure your products will be secured safely and effectively.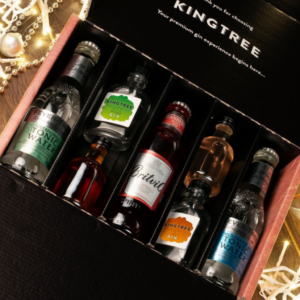 Garthwest's Branded Presentation Boxes
2. Enticing Design Elements
A memorable unboxing experience is an excellent method of persuading customers to make a repeat purchase. With complete control, we encourage clients to break away from plain cardboard boxes and embrace the power of creative design. Consider incorporating branded colours, shapes, logos, patterns and unique illustrations to reflect your personality.
Once you finalise a design, we'll ensure all elements are accurately printed across the interior and exterior of your branded postal box. Our unique printing service provides the highest print quality, offering CMYK digital printing for low-volume orders and Flexco printing for high-volume orders.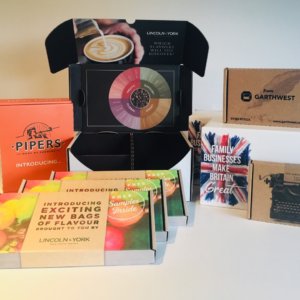 3. Branded Messages
When it comes to packaging, it's what is on the inside that matters. We offer an unlimited print area on the interior and exterior of your promo postal box, allowing you to add personalised messaging in and outside the box.
Your presentation box is a way to get your brand identity across. Add a message about your values, story or instructions for setting up and using your product. You could also include a thank you note as a token of appreciation. These small touches can go a long way in building a genuine customer relationship.
4. Interactive Elements
Make your promotional boxes engaging with printed QR codes that direct customers to exclusive offers, user guides and further branded content. By doing this, your customers will continue interacting with your brand, discovering more about what your offer.
QR codes are a seamless tool to help reach your brand further. Directing them to FAQs or user guides will assist with customer questions, whereas taking customers to exclusive offers will encourage them to buy again. Whatever you choose, adding interactive elements to branded presentation boxes will leave a lasting experience that boosts customer experience.
5. Sustainable Materials
Brands worldwide implement sustainable packaging to lessen their supply chain's carbon footprint. At Garthwest, we make all our presentation boxes from biodegradable and fully recycled cardboard. Using an eco-friendly material will reduce carbon impact and improve your brand's reputation with eco-conscious customers.
Custom Branded Presentation Boxes at Garthwest
For high-quality promo boxes, choose Garthwest. We have been helping clients from the retail and FMCG industries bring their vision to life using a bespoke design and printing service. Contact our team today to discover more about our branded presentation boxes.