'Tis the season to be buying! According to Statista, 54% of people start their gift shopping just before December. Now is a prime time to kickstart your Christmas retail campaign before you miss out on this shopping mania! 
In this blog, we'll explore the best Point of Sale (POS) displays to help your business maximise sales and 'sleigh' the competition during this festive season. 
What Is POS for Displays?   
POS displays are a form of retail merchandising used to promote a product in a key advertising space. POS Displays are usually positioned near the point of sale (i.e., the checkout till), encouraging customers to make last-minute impulse purchases. 
At Garthwest, we offer over 20 years of retail experience for POS displays. We work closely with national and global brands, delivering creative outcomes that achieve their marketing goals. Our expert design team are skilled in crafting POS products, including FSDUs, CDUs, branded postal boxes and pallet display bins. 
Combine your brand story with seasonal design trends and see your bespoke retail display grab attention and bring in increased sales. 
Top POS Displays for Christmas Marketing
1. Free Standing Display Units (FSDUs)
A FSDU is a versatile retail display used to showcase your products and promotions. We manufacture each FSDU using lightweight and recyclable cardboard, ensuring ease for the retailer to assemble and move throughout the store.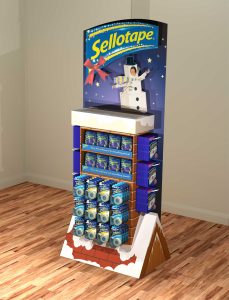 Free-standing displays are a versatile storage solution that advertises your product in high-traffic areas. As such, these displays are invaluable for the holiday season ahead. Our bespoke design process allows you to create an FSDU that reflects your brand and pushes your Christmas campaign. 
Include promotional messages, bold seasonal colours and unique shelving slots to highlight your product's benefits. For larger items, choose our quarter pallet FSDUs that are made bespoke for your needs. 
2. Counter Display Units (CDUs)
Want to drive impulse buys? A counter top display will place your products right at the point of sale. Due to their size, CDUs are ideal for smaller items and can be strategically positioned near tills and checkouts as a last push to catch customer attention.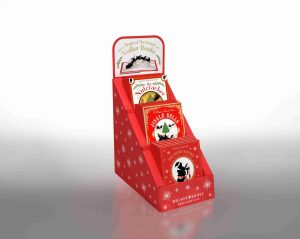 Our experts will tailor the CDU structural design to present and hold your product in its best light. We'll ensure plenty of room for additional stock and send them flat-packed for reduced storage costs. Our eco-friendly CDUs offer space for custom print, allowing you to create an on-brand display that supports your Christmas campaign. 
3. Pallet Display Bins
A pallet wrap, aka a pallet skirt or display bin, is a printed POS display for large, bulkier items. Pallet skirts transform simple, wooden pallets into an exciting display that catches attention near the point of sale or by the shop entrance. 
A well-designed pallet wrap with a festive look can boost your product's visibility during the holidays. Including special Christmas promotions in the messaging can make your product even more appealing.
Contact Garthwest for Retail Point of Sales Display
Garthwest is proud to help national and global brands succeed with high-quality, custom POS displays. We're dedicated to meeting your packaging demand, so choose us as your trusted packaging partner this Christmas.
Contact the team, and we'll be in touch.