The different variations of in-store POS are endless, and it is a complex process to establish which one will work best for your product and suit your brand.
Let's look into a very popular solution that is used for product promotions and sales campaigns: the clip strip. Clip strips are an ideal way of merchandising smaller items that, placed in the right area, are great for impulse buys and promoting complementary add-on products.
Clip strips have been on the rise in retail environments recently due to their key benefit of not requiring shelf space and providing a cost-efficient promotional tool for presenting various products in a retail environment. Made of cardboard, 100% recyclable and sustainable material, the clip strip brings even further benefits such as helping brands towards reducing their carbon footprint and promoting their eco-friendliness.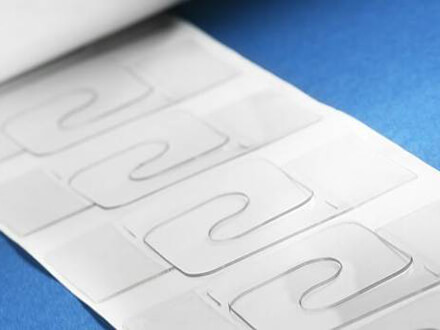 A leading UK confectionery brand got in touch with our team in search for a suitable point-of-sale solution for their tasty marshmallow bars in retail stores. Garthwest's design team had the challenge to deliver an impactful solution for a new product that does not require shelf space whilst enhancing product presentation and easily put together. Also, in line with our customer eco-friendly strategy, the POS unit had to be fully recyclable.
From concept to creation
After discussing a few possibilities, our design team started constructing a corrugated clip strip concept that has the ability to hang stably, whilst accommodating, presenting, and allowing easy dispensing of the marshmallow bars. Considering product weight, size, and the client's requirement of bars per strip, our designer came up with the solution.
The solution
Garthwest's POS designer created an 80cm long corrugated cardboard strip that has small window-looking slots. In order to create the holders for each bar, our designer presented another corrugated strip that has creases to form a sleeve once merged with the main strip. Joined together, both strips delivered the perfect solution that holds and presents 12 bars without the need for a box or shelving space; still as impactful and eye-catching as the goods that are placed on shelves.

However, while clip strips are primarily used to hang and present products to retail shoppers, there is so much more you can do with them just by looking beyond their fundamental purpose. Another function is to use them to raise brand awareness, educate customers about the product, what it contains or how it is used. This can be easily and very effectively done through customised print designs onto the clip strip.
Utilising the available clip strip surface, our designer created brand consistent artwork, adding both information and visuals of the products' content. There even was a dedicated space for the brand's cartoon mascot.
Transit and assembly
Designed in three pieces, one hanging strip and two filler strips, our client's clip strip is well suited to be flat packed for shipping to their customers, cutting the cost of postage to as minimum as possible. Additionally, the simple but effective design, allows easy assembly without even looking to the assembly instructions provided.
Once completed and happy with the POS unit design and artwork, a printed sample was sent to our client to gain their final feedback and approval. Not long after sending the sample through, we received the news that these will be needed as soon as possible for our client's forthcoming product promotion in some of the largeset UK retailers… job well done and another happy customer!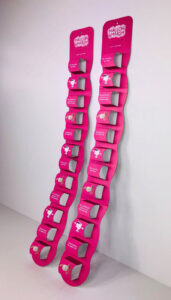 If you have an upcoming promotion or product sale and are indecisive what POS unit will work for you, get in touch, here at Garthwest we are always happy to assist and help you make an impact.