Subscription boxes are no stranger to the UK consumer, however, after months of lockdown and unpredictable future due to the Covid crisis, UK pandemic-wary consumers became increasingly keener to have their most desired buys brought to their door safely and regularly. From cosmetics, cleaning supplies, groceries, surprise tech treats and creative craft kits, to plants in the post and alcohol-free booze, UK shoppers opened the door to a whole new world of subscription box opportunities for edgy entrepreneurs out there. Here at Garthwest, we have had the pleasure to craft some subscription boxes and no surprise if it is one that comes through your door too.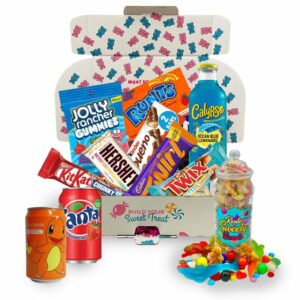 Understanding that packaging is not only serving the purpose of shipping products safely, but also driving sales through effective brand messaging delivered by high-quality graphics and key product information, our customer cracked on with a subscription box idea utilising her packaging as an advertising billboard for her newly established brands' product and values from the very start.
Our journey with Route Sweety Sweets brand started when the founder got in touch and we discussed her vision, what she needs for her brand to excel and what her offering was, our design team then stepped in and delivered strong and impactful packaging that not only delivers the product safely but reflects the brand image and provides an outstanding customer unboxing experience.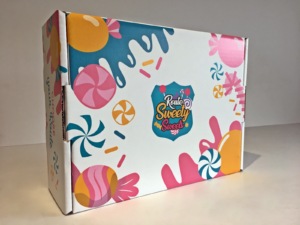 Our designers took into account factors such as the possible weight that will go into the box, the way that the box will be shipped, handled and eventually travel. The second stage of the process was to determine the most convenient and suitable way of packing that helps easy fulfilment whilst accommodating the best possible box style for maximising the customer's unboxing experience – no overpacking or fillers, no taping or gluing but rigid and secure box.
Once the design and box strength were decided, we moved to on to creating the look where two side print was required in order to enhance the packaging and products' appearance. Route Sweety Sweets' cheerful banding was applied to the external side of the box where internally the box was covered in colourful gummy bears. Required by the vibrant artwork, we have gone for high-end digital print process allowing our client to make the most of her artwork.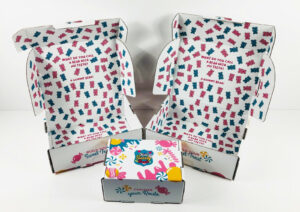 Happy with the provided structural and printed prototype, our client placed her first order! Not long after, we were pleased to know that her idea went perfectly well and she is looking for another size to utilise as a hamper box. These colourful boxes full of goodies are still out there so bear this in mind when you feel like sending goodies to a friend or family.
Most importantly, if you have an idea of launching a subscription box business or a product that needs packaging we are here to help, get in touch and our team will guide you throughout the way.